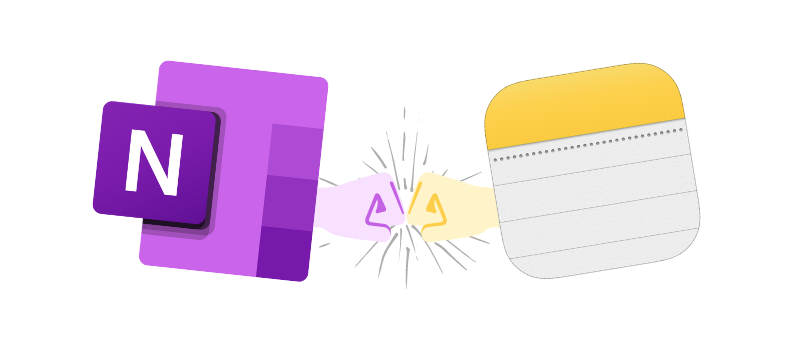 In this post I will share how I was able to migrate from OneNote to Apple Notes. It's a fairly tedious process, but it's doable with a little bit of effort and time!
How to migrate from OneNote to Apple Notes
In summary, the process has three major steps.
Use Evernote to import notes from OneNote, one section at a time
Export Evernote .enex files for each previous OneNote section. (In Evernote the equivalent is a "notebook")
Import .enex files in Apple Notes
Yes, we're actually using a third tool, Evernote, to make this happen. Unfortunately OneNote doesn't provide a viable export option that you can use with Apple Notes. However, Evernote has a built in tool to migrate files from OneNote. And since Evernote is more flexible in its export process, you can actually use it to convert your OneNote notes to a format (.enex) that Apple Notes can import.
Post Mortem after the Migration
Here are some lessons learned after migrated to Apple Notes.
The Good
Syncing between devices is faster and more reliable
Apple Notes strikes a great blend between simplicity and useful features. It's not cluttered.
Drawing tools are better
Dark mode implementation is better
2021 update: Apple Notes now supports #tags which is great for more advanced organization
The Bad (or Annoying)
No back/forward buttons to navigate between notes
Search is somewhat limited. I wish Apple Notes had smart folders so I could quickly find things like the most recently edited notes across all folders.
There's no way to link between different notes
Overall, the move to Apple Notes has been a good one. For me, having a simplified interface and reliable syncing between my Apple devices is key. I don't miss all the extra bells and whistles of OneNote.
My Journey from Evernote to OneNote to Apple Notes
My journey with digital note-taking has been a storied one. The first note-taking tool I ever committed to was Evernote back in 2009. Evernote captured the lion share of the note-taking market for several years. It was red hot and became ubiquitous for note-taking.
By 2014 I had written over 1,500 notes in Evernote. But then something happened. Evernote was starting to lag behind competition. They also launched a paid service, but the offering wasn't compelling enough for me to pay. Then, innovation at Evernote seemed to just … stop. The product felt stagnant. I couldn't reconcile how monetizing their app didn't result in any meaningful enhancements for users. Evernote lost their way.
Then in 2015 Microsoft began offering OneNote for free (PC, Mac and mobile). A shot at Evernote? Probably yeah. They saw an opportunity while Evernote struggled. I've never been a Microsoft fanboy. But around this timeframe under Satya Nadella's leadership, Microsoft was changing and evolving (and continues to) in ways that had great benefits for consumers. Making OneNote free was one of those changes.
So I decided to migrate from Evernote to OneNote. I went all in and didn't look back. Migrating my notes over to OneNote was actually pretty darn smooth. In a couple of hours I was up and running.
Fast forward to 2020. After using OneNote for a few years I realized two things that ultimately led me to search for (another!) a replacement.
Too many features can distract you from taking good notes. OneNote is great if you like tons and tons of features and flexibility. But if you're looking for simplicity, then it's probably not for you.
Syncing was always a bit wonky and writing notes on my iPhone was never smooth. The note syncing was inconsistent and slow. My OneNote file was stored in OneDrive and I always found it strange (and frustrating) when my notes would not sync quickly with my laptop. And the mobile experience on iPhone has issues with editing. The fonts would change mid note (what?!). There was keyboard incompatibility, especially with swipe. Weird things like that. These issues interfered enough with my workflow to make me consider alternatives… again.
If you're considering migrating to Apple Notes Ihope you find this helpful! The process, while a little cumbersome, really isn't that bad. Good luck!