Welcome to the Tech Execs, where we discuss new and emergent technologies to help executives manage their organizations. This week is the beginning of a three part mini-series called'Don't Lift and Shift and Stop', talking about how to move your organization to the cloud AND continually improve your cloud strategy. Whether you're just getting started or looking to take advantage of the latest cloud technology, there are many advantages to be had by the cloud.
In this episode, we are going to be clearing up some misconceptions about cloud strategy and talk about how you can move into the cloud quickly while setting yourself up for long-term success.
Typically the quickest way to get to the could is a lift and shift migration approach. This is mainly a one for one match from one infrastructure to another. There are some reasons why this option is considered, but that's not the focus of this episode. We want to arm you with some key questions to ask early on in your cloud journey. There are some mind shifts that need to happen as you adopt cloud technology. We'll get into more of that in the next two episodes.
To orient us over the next three episodes, we're going to talk about all three of the options below, starting with Lift and Shift.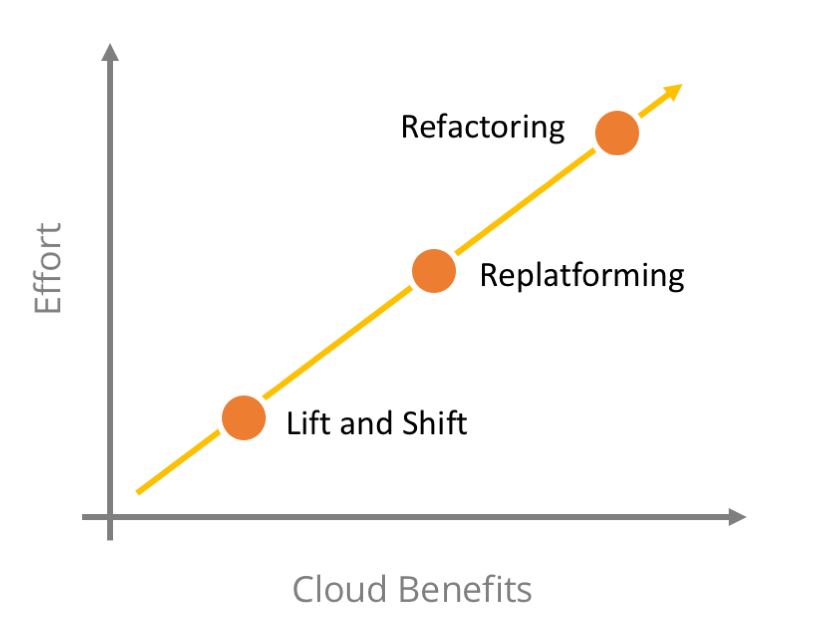 4 key questions to ask your organization before you lift and shift
When you're considering moving infrastructure to the cloud you have a lot to consider. It's more than simply lifting and shifting your workloads. It's a chance to innovate and optimize. Below are some key questions that will help you along in your journey.
How will you organization handle billing concerns?
One of the hardest things about moving to the cloud is also one of the best things: being able to quickly and easily spin up new infrastructure and services for your growing organization. It's easy to get started, but it's also easy to lose control of your costs. Without a proper strategy on who is responsible for which costs, you could be managing an organization with thousands of dollars of un-trackable costs.
How will you distribute control and access over your organization?
When moving to the cloud, you make it a lot easier for people of a larger skillset to use cloud tools. However, organizations fall into one of two 'extremes': giving only control to those who have traditionally had access to it (Operations) or giving access to all requests. In the former, you don't get any of the advantages of moving to the cloud, artificially reducing innovation. In the later, you run the risk of running up extreme costs in the organization. So as you move to the cloud, you have to ask what the appropriate level of control is for your business and how you're going to roll that our.
Who will be your cloud expert during the migration?
When making a transition to the cloud, many of your operations resources will feel either unqualified or left behind. However, our experience has shown that when moving to the cloud, most traditional operations personnel are more than capable of running a cloud first operation. When getting acquainted, they need the knowledge necessary to know how to do things in the cloud, but can handle most other problems experienced by the organization. Because of this, we recommend having an internal cloud expert or trusted partner who can be the technical go-to while the organization is getting up to speed on cloud. This is the best of both worlds as you do not have to hire a completely new team and they can get you working in the cloud fast.
Who will be managing the project timelines and plans?
As always, projects are only as good as their ability to be completed. When moving to the cloud, your organizations should have a clear understanding of when and how certain resources will be moved to the cloud and who is responsible for those actions. Giving your team the resources and accountability to make a change will put you in a good place to move forward.
That's it for today's topic. Next week, we will be discussing how to get the most out of your cloud adoption strategy once you've moved to the cloud and have been there for a while. This will cover the basics of how to innovate on your cloud infrastructure with the improvements we've recommended in this episode.
If you would like us to discuss a topic on The Tech Execs or have a question for us, please send an email to us at answers@thetechexecs.com. We want to hear the tech management problems you are experiencing and give you guidance on how to solve those problems.